Thu., Jan. 3, 2013, 8:37 a.m.
McEuen Field: $4.2M More
The city of Coeur d'Alene wants to add previously removed amenities to the McEuen Park plan, and is asking its urban renewal agency to fund the additions.The City Council agreed Wednesday night to move forward with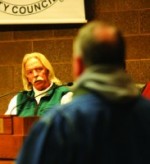 a project plan that now includes tennis and basketball courts, as well as an expanded pavilion and other perks that weren't a part of the project design a few weeks ago. The council, as it has on almost all McEuen Field matters over the last year, split on the matter, and Mayor Sandi Bloem broke the deadlock by voting in favor of the enhanced version of the plan. "The headline this morning was absolutely right," Bloem said, referring to the Press headline in Wednesday's paper about the park options before the council. "'What park do you want?'" The decision means the next step is to officially ask Lake City Development Corp., the urban renewal agency and main financial supporter of the park project, to contribute up to $4.2 million more/Tom Hasslinger, Coeur d'Alene Press. More here.
Question: Which McEuen Field did you want?
---
---