Thu., Jan. 3, 2013, 9:40 a.m.
Mike, Tom Mix It Up At Council Meet
Joker reports about the public comments period of the City Council meeting: "Last night was an instant classic. Tom Hamilton of the school district came up to the podium to talk about Person Field. Yawn.. Until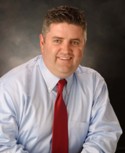 Mike Kennedy delivered a blistering rebuke by reciting a Tom Hamilton Facebook post that was very critical of the city and Woody McEvers whom Hamilton allegedly dubbed a 70s burnout. Tom was cool under fire, but he blushed a little. He smiled and said he was being sarcastic. Mike wasn't satisfied and continued to hammer Hamilton, who then brought up the Aryan Nations kerfuffle. Ron Edinger finally intervened and asked the Mayor to stop the personal attacks. Woody McEvers stole the show — by reminding Hamilton that he's a product of the 60s and that he's older than he looks because the 60s treated him so good. What a gentleman. After the council break, Kennedy announced that he and Hamilton could solve the whole thing over a beer. And you know what I think they could too. The city council meeting need to be moved to Capones and pitchers must be served until all the problems are fixed.
DFO: For those keeping score at home, Chairman Hamilton, on his Facebook post, referred to McEuen Field as "McScrew'Em Park!" and Councilman McEvers as "the perennial 70's burn out."
Question: What do you think of Joker's idea -- convening City Council meetings over beer at Capones?
---
---