Thu., Jan. 3, 2013, 4:21 p.m.
Sheriff Investigates Murder-Suicide
Update: KCSD has released the identities of two people killed in an apparent murder-suicide this morning in Hayden: Daryl R. Clark, 43, and his wife, Tina M. Clark, 48, both of Hayden. Family notifications have been made. Autopsies on both will be conducted on Friday.
Two are dead following an apparent murder-suicide in Hayden. The Kootenai County Sheriff's Office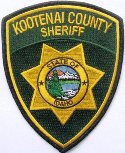 responded to the 900 block of Sheridan Avenue for a reported shooting about 11 a.m. today, said Lt. Stu Miller. A man in his 40s had called 911 to report he had shot his wife and was going to shoot himself. As deputies arrived and approached the residence, they heard a single gunshot from inside the home. Upon entering, they found a woman in her 40s dead from an apparent gunshot wound, Miller said. They then found a man in another room, also dead from an apparent self-inflicted gunshot wound. Authorities have not confirmed their identities. It is unknown at this time what precipitated the shootings, Miller said. Detectives are at the scene investigating/Chelsea Bannach, SR.
---
---