Thu., Jan. 3, 2013, 5:05 p.m.
Utah School Tweaks Elvis Musical
A parent who was "All Shook Up" about Elvis Presley songs in a high-school drama prompted educators to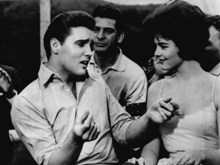 cancel the musical, deeming it too sexual. But the decision was reversed Thursday by administrators at the high school south of Salt Lake City. The administrators at Herriman High School received permission from the copyright owners of "All Shook Up" to edit some of Presley's songs and make scene changes in the American jukebox musical that borrows from William Shakespeare. "The show will go on," said Sandy Riesgraf, a spokeswoman for the Jordan School District. "Our biggest concern early on, we wanted to make some changes to keep the play within community values. It's a win-win for all of us"/Associated Press. More here. (AP file photo: Elvis Presley in a scene from "Kid Galahad")
Question: Have you ever lectured your children re: the music they listen to?
---
---