Fri., Jan. 4, 2013, 8:36 a.m.
Crapo Pleads Guilty To DWI
Idaho Republican Sen. Michael Crapo has pleaded guilty to drunken driving charge in a Virginia court. Crapo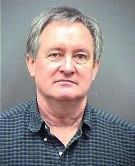 pleaded guilty to a first-offense DWI today. The DWI charge is a misdemeanor under Virginia law. Prosecutors dropped a charge of failing to obey a traffic signal. Crapo received a $250 fine and a 12-month suspension of his driver's license. He will also be required to complete an alcohol safety program. As long as he remains on good behavior he will not have to serve a 180 day suspended jail sentence. Police say Crapo was pulled over for running a red light and registered a blood alcohol level above the legal limit. Crapo issued a statement shortly after his Dec. 23 arrest apologizing for his actions/Associated Press. (Photo: Mike Crapo DUI mug shot)
Question: Do you believe Crapo has sufficiently explained his actions in this matter?
---
---