Fri., Jan. 4, 2013, 8:26 a.m.
Jacklin Seed To Close Doors
The Jacklin Seed facility, one of Post Falls' oldest and most visible businesses with its operation along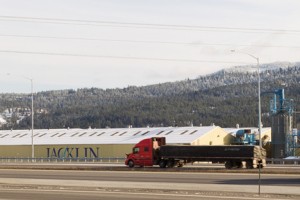 Interstate 90 near the state line, will shut down over the next three years, the J.R. Simplot Company announced on Thursday. Boise-based Simplot, which bought Jacklin Seed in 1997, has acquired Scootney Springs Seed, a production and seed-cleaning facility near Othello, Wash., to be closer to the company's main production areas in central Washington. "The growing area for the bluegrass industry in the Pacific Northwest has shifted, and this new location near Othello will keep Jacklin Seed in the midst of the market," said Chris Claypool, Jacklin Seed general manager. Twenty-five production employees at the Post Falls facility will not be transitioned to the Othello site, which already has such a staff, said David Cuoio, Simplot spokesman/Brian Walker, Coeur d'Alene Press. More here. (Coeur d'Alene Press photo: Shawn Gust)
Thoughts?
---
---