Mon., Jan. 7, 2013, 9:06 a.m.
Labrador Mum On Boehner Snub
Idaho Rep. Raul Labrador not only abstained from the vote to re-elect John Boehner as speaker of the U.S.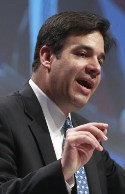 House, he collected a vote himself for the post. Ohio GOP Rep. Justin Amash, who's at odds with his party leadership and recently was stripped of his committee assignments, sent out this tweet about his decision to vote for Labrador instead of Boehner: "Proud 2 vote 4 @raul_labrador 4 Spkr. Raul would defend liberty & work honestly w/Ds on debt reduction. We must act now 4 sake of next gen." Only 12 House Republicans didn't support Boehner's re-election bid as speaker; he won with 220 votes, six more than were required/Betsy Russell, SR. More here. (AP file photo of Congressman Raul Labrador)
Question: Do you think Congressman Raul Labrador wants to be the House Speaker?
---
---