MONDAY, JAN. 7, 2013, 8:17 A.M.
Vestal: Truth Elusive In Mall Shooting
Perhaps you've heard the story – the unreported, true story – of the good guy with a gun who stopped the shooting at that mall in Portland a few weeks back. Or perhaps you haven't, given how diligently the liberal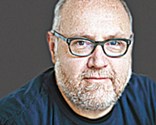 media work to hide the truth. But out in the nether reaches of the Internet – where the truth about the truth is certain – the story of the good guy with a gun in the Clackamas Town Center has become a kind of gospel, and the refusal of others to embrace it has become a proof of conspiracy. "National media fails to follow up on story of shooter stopped by a shopper with a concealed-carry gun," reads the intro to a YouTube video about the story posted by FoundersIntent.org, an organization that will teach you the truth about the Founding Fathers and their intents. The story of the concealed carrier who saved the day, only to be ignored by the gun-hating media, has found fertile soil/Shawn Vestal, SR. More here.
Question: Have you heard the rumor of a good-guy with a gun who stopped the shooting at the mall near Portland during last month?
---
---