Tue., Jan. 8, 2013, 1:18 p.m.
Becky: How I Became A Chaplain
From September to December, I took a sabbatical from The Spokesman-Review, moved to Chicago and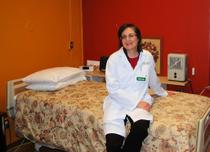 completed a 12-week internship in chaplaincy at Rush University Medical Center. Aging experts predict that some baby boomers now in their 50s will work at "encore careers" in their 60s and 70s, lured there by financial necessity and/or unfulfilled callings. In the mid-1990s, I first heard a subtle call to chaplaincy. My brother-in-law and father died within two years of one another, and family members gathered for weeklong vigils at their death beds. It was sacred time, and in an editorial board meeting at the newspaper 17 years ago, I blurted out: "I'm going to be a hospital chaplain someday"/Rebecca Nappi, SR. More here. (Rebecca Nappi poses in the chaplain's on-call room in the 644-bed Rush University Medical Center in Chicago)
Question: Are you planning a post-retirement career?
---
---