Tue., Jan. 8, 2013, 8:24 a.m.
District Wants $1M More For Security
The Coeur d'Alene School District is planning to ask voters to approve approximately $1 million more on its next levy, so enhanced safety measures can be implemented across schools in the wake of the Sandy Hook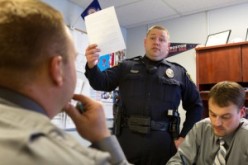 Elementary School shooting in Connecticut. The additional $1 million would come on the heels of the $12.9 million supplemental levy voters will be asked to vote upon in March, and, if approved, pay for one-time capital designs to make the schools safer. "It's a movement toward better safety, not perfect safety," said Hazel Bauman, Coeur d'Alene superintendent. "It isn't perfect, but it's a step in the right direction." The capital improvements could include entry system and technology upgrades, proximity controlled facility access, bullet-proof glass on some windows, fencing, stricter visitor controls and metal detectors and video surveillance/Tom Hasslinger, Coeur d'Alene Press. More here. (Shawn Gust's Press photo: Detective Jon Spranget talks with principal Nick Lilyquist of Canfield Middle School, far right, and Assistant Principal Mike Lindquist)
Question: Is the $1M for additional school security the cost of doing business in our violent society or an over-reaction to the Newtown massacre?
---
---