Tue., Jan. 8, 2013, 8:39 a.m.
Duncan Back In Idaho For Hearing
Joseph Duncan was sentenced to death three times over for crimes against a 9-year-old North Idaho boy he killed in 2005, and he initially and repeatedly said he had no interest in appealing his death sentence. But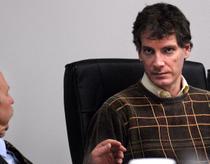 Duncan is still alive, and he'll be back in an Idaho courtroom today. The reason: His court-appointed lawyers filed an appeal for him, arguing that the multiple murderer and child molester wasn't mentally competent to waive his death-penalty appeals. In addition to the three death sentences for the kidnapping, torture and murder of 9-year-old Dylan Groene, Duncan received nine life sentences for his 2005 attack on Dylan's family at their Wolf Lodge Bay home. Duncan killed Dylan's mother, older brother and mother's fiancé before kidnapping the family's two youngest children. Only Dylan's then-8-year-old sister, Shasta, survived the ordeal/Betsy Russell, Eye on Boise. More here.
Question: How can anyone respect the justice system in America when Duncan is still breathing today?
---
---