Tue., Jan. 8, 2013, 1:34 p.m.
Pac-12 Probe Clears Leach, Staff
The Pac-12 announced the findings of its nearly 2-month review of the Washington State football program on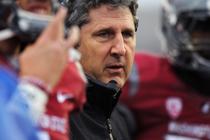 Tuesday, concluding that no evidence was found to suggest that coach Mike Leach (shown in SR file photo) or his assistants had engaged in player abuse. The investigation was prompted after former receiver Marquess Wilson quit the team following a Nov. 4 workout, then alleged in a Nov. 10 letter to news media that the staff had abused the players physically, emotionally and verbally. WSU's internal review of the program exonerated Leach and his staff, buoyed by a text message Wilson sent to athletic director Bill Moos in which he softened his claims against the coaching staff/Christian Capel, SR. More here.
Question: Surprised by findings?
---
---