TUESDAY, JAN. 8, 2013, 8:57 A.M.
Pantless Man Tries Home Break-In
A Spokane couple got quite the surprise on their doorstep this weekend. They woke up to find a man trying to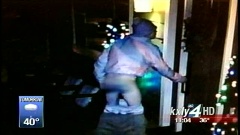 break into their home, but that was just the tip of the iceberg. "Once we saw the image we were like O-M-G, I couldn't believe my eyes," Dianne Lavalley said. Dianne and her husband, Todd, didn't spend their Sunday morning reading the paper and relaxing in their home. "It was 6:41 in the morning on Sunday and the dog was barking like crazy," Dianne said. A man was trying to break into their home. The man quickly took off though and the Lavalley's didn't get a good glimpse of them but when they went back through their security camera, they saw a lot more of him than they expected/Kylie Cruz, KXLY. More here.
Thoughts?
---
---