Wed., Jan. 9, 2013, 11:01 a.m.
Bonds, Clemens, Sosa Rejected
Steroid-tainted stars Barry Bonds, Roger Clemens and Sammy Sosa have been denied entry to the Baseball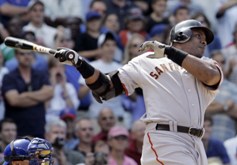 Hall of Fame with voters failing to elect any candidates for only the second time in four decades. Ken Rosenthal says it's actually a good thing that nobody was voted into the HOF this year. A candidate must receive 75 percent of the vote from the voting members of the Baseball Writers' Association of America in order to be inducted. In totals announced Wednesday by the Hall and the BBWAA, Bonds, baseball's only seven-time Most Valuable Player, received 36.2 percent of the vote. Clemens, the only seven-time Cy Young Award winner got 37.6 percent; Sammy Sosa received just 12.5 percent. They were appearing on the ballot for the first time and have up to 14 more years to make it to Cooperstown/Associated Press. More here. (2007 AP file photo of Barry Bonds playing for San Francisco)
Question: Should steroid-tainted superstars like Bonds, Clemens and Sosa have been elected to the Hall of Fame?
---
---