For over a year now I've been managing a rare and ultimately fatal form of cancer. Though slow-moving, in cases like mine where doctors cannot identify the primary source for certain, the patient is often at the Big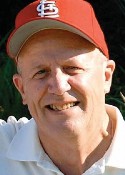 Roundup in the Sky within six months. Yet, I'm still very much alive and kicking, working as a consultant, and trying to keep up with my 2 1/2-year-old grandson. There are hundreds of folks across the Inland Northwest each year confronted by cancer. It is by no means always a death sentence, and each person diagnosed with the disease has to choose how to respond. My response is but one and while it works for me it may not work for others. "What's your secret?" many have asked. I took the advice I've given clients for years: analyze the issue, develop a game plan, and employ it aggressively. In short, take charge and manage your care. Be proactive and positive, not reactive, passive and negative. In the process, I've developed some fundamentally simple rules, but they work – and what's more, doctors and nurses seem to appreciate them/Chris Carlson, The Carlson Chronicles. More here.
Question: What do you think of Chris's approach to a tough health problem?