Thu., Jan. 10, 2013, 11:54 a.m.
'Lincoln' Leads Oscar Nominations
Only in Hollywood could a tiny, low-budget tale of a little girl named Hushpuppy who lives in the bayou take on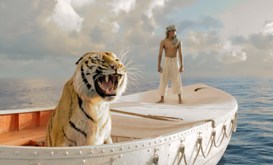 a historical epic by master filmmaker Steven Spielberg about the 16th president's struggle to end slavery and the Civil War. But "Beasts of the Southern Wild" and "Lincoln" will both be vying for best picture and best director at the 85th Academy Awards ceremony, after Thursday morning's Oscar nominations saw some shocking omissions, delightful surprises and Oscar history being made. Rounding out the nine best picture nominees are: "Zero Dark Thirty," "Argo," "Les Miserables," "Life of Pi," "Silver Linings Playbook," "Amour" and "Django Unchained. The other nominees for best director are Ang Lee for "Life of Pi," David O. Russell for "Silver Linings Playbook," Michael Haneke for "Amour" and Benh Zeitlin for "Beasts of the Southern Wild"/Susan King & Renee Lynch, Los Angeles Times. More here. (AP/20th Century Fox photo: This film image released by 20th Century Fox shows Suraj Sharma as Pi Patel in a scene from "Life of Pi")
Question: How many of the 9 Oscar nominations for best picture have you seen?
---
---