Thu., Jan. 10, 2013, 2:33 p.m.
Oscar the Oven Mitt
I love names. I give names to everything – my car, my cat, my kids, spiders, clothes, and oven mitts. Actually, it's my Mom's doing. She started it. When we were growing up, Mom acquired an oven mitt in the shape of an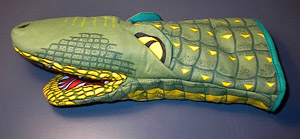 alligator (or a crocodile – I can't tell them apart), and we were fascinated with "him." We worried endlessly about how he would survive going into the hot oven to grab something with his teeth. Mom named him Oscar. Oscar was like a Mighty Crock who could withstand innumerous dunkings into the fires of hell, er, the oven. He was singed, and once even caught fire upon which my Dad heroically put out the fire by throwing Oscar into the dishwater and nearly drowning him. Once he actually made it into the laundry and all the little singed parts became little frayed holes. But he still managed to be the chief pot holder in the family, and the only one with a name/JeanieS, Community Comment. More here. (Photo from Manhattan Mennonite site)
Question: Do you name things in your house (besides your kids)?
---
---