Thu., Jan. 10, 2013, 12:37 p.m.
Otter Plan Would Cost Kootenai $2.2M
Let's not get too gaga over Gov. Butch Otter's plans to replace the personal property tax, collected by the state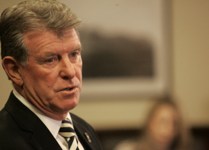 and circulated to local governments, in favor of a local-option tax. The move will cost local governments millions of dollars, according to an Idaho Tax Commission analysis of the move. In 2012, for example, Kootenai County received $2.2 million in personal property tax revenue. Other local governments in the county receiving substantial personal property tax revenue included: city of Coeur d'Alene, $960,219; city of Post Falls, $517,829; Coeur d'Alene School District, $750,518; Lakeland School District, 943,822; and Post Falls School District, $520,138. Local governments would lose $131 million statewide, if the Idaho Legislature dumps the personal property tax. Otter proposes that legislation be passed for local option taxes to replace that money. You can see how Otter's proposal will affect counties, cities & schools here. (AP file photo of Butch Otter) H/T: Dylan Wohlenhaus, KHQ
Question: And what happens if local taxpayers don't vote to tax themselves to pay for services now funded in part by the personal property tax?
---
---