Exit Boehner, Enter Idaho's Simpson?
The table just may start to be set for Idaho 2nd District Congressman Mike Simpson to become the next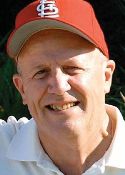 speaker of the House of Representatives. Yes, the split in the House Republican Conference started to show when one member cast a vote for Idaho 1st District Congressman Raul Labrador, and Labrador himself refused to vote. Labrador, however, even though the darling of the Tea Party types, will never be speaker. Simpson, on the other hand, has a real shot in part because he has been a loyal lieutenant to Speaker Boehner. One can predict that if it becomes clear to the speaker that he no longer enjoys the confidence of his caucus and should step aside, he will still have a sizable contingent of loyalists. Boehner could no doubt direct these loyalists to vote for one of his key advisers, Simpson/Chris Carlson, The Carlson Chronicles. More here.
Question: Which Idaho congressman would you rather see as Speaker of the House -- Raul Labrador or Mike Simpson?
---
---