Fri., Jan. 11, 2013, 1:25 p.m.
Fred Meyer Workers OK w/Closure
Whatever business replaces the soon-vacating Fred Meyer in north Spokane will have large shoes to fill. The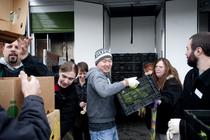 retail and grocery store at 525 E. Francis will close Feb. 2 after 38 years. The company announced last year it failed to renew a lease with the property landlord. On Thursday many of the store's clerks, custodians, managers and department heads worked as volunteers during a three-hour celebration that included treats, door prizes and a donation of nearly $60,000 to Second Harvest Food Bank. The event was the brainchild of the store's 170 workers following news the store would shut down/Tom Sowa, SR. More here.
Question: Have you ever worked for a business that closed? How did you survive the closure?
---
---