Fri., Jan. 11, 2013, 8:39 a.m.
Tentative Deal On Person, Bryan
Deal. After months of negotiating, the city of Coeur d'Alene and School District 271 agreed Thursday to a deal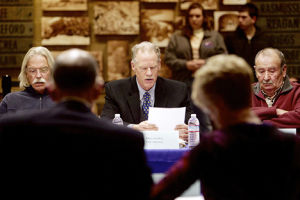 for the school district's half of Person Field, all but guaranteeing the public space popular for Coeur d'Alene Junior Tackle Football will remain as it is. And Bryan Field, the roughly 2-acre park off 10th Street, is a part of the package deal that aims to sell both public spaces owned by the school district to the city for between $655,000 and $750,000. It feels "very good," School Superintendent Hazel Bauman said following the public meeting where both sides sat down to hammer out a deal that had stalled in recent weeks, calling the solution "a win-win." "We don't want to be in the parks business, we need the cash, and they're in the parks business." The deal isn't set in stone, yet/Tom Hasslinger, Coeur d'Alene Press. More here. (Jerome A. Pollos Coeur d'Alene Press photo: City Attorney Mike Gridley reads a letter explaining the history of Person Field)
Question: Why were the two warring sides able to make this deal happen in under 2 hours?
---
---