Mon., Jan. 14, 2013, 8:48 a.m.
Field Goal Denies 'Hawks In Playoffs
It was agonizing. Then it was amazing. And in the end, it was utterly excruciating for the Seahawks and the city behind them. It was Atlanta 30, Seattle 28 at the Georgia Dome, the Falcons' kicker making a 49-yard field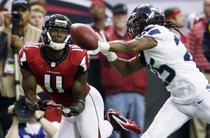 goal with eight seconds left in a second-round playoff game that went from maddening to nearly miraculous to ultimately miserable for Seattle. "Couldn't finish it," Seahawks coach Pete Carroll said. In some ways, it was amazing the Seahawks got that close, and in others it was a shame it had to come to that. This was a game it was hard to see Seattle winning, given the chances it wasted in the first half and the defense it played. The Seahawks were behind by 20 points in the first half, trailed 27-7 when the fourth quarter began and didn't force Atlanta's first punt until midway through the final period/Danny O'Neil, Seattle Times. More here. (AP photo: Atlanta's Julio Jones (11) comes up empty after Seattle's Richard Sherman slaps ball away)
Question: Are you satisfied with the 2012 Seattle Seahawks?
---
---