Tue., Jan. 15, 2013, 8:17 a.m.
City Denies Appeal Against High-Rise
The Coeur d'Alene City Council Monday denied an appeal by a group of neighbors who want to prevent the construction of a proposed 14-story high-rise building in downtown Coeur d'Alene. The denial greenlights the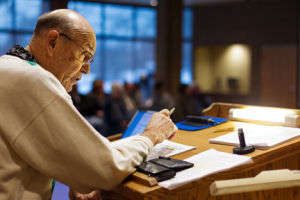 Colorado developer, One Lakeside LLC., to seek building permits for the project slated to break ground in the fall. "We're pleased, obviously, with the decision," said Greg Hills, principal of the real estate development firm behind the estimated $20 million project, Austin Lawrence Partners, out of Aspen, Colo. "We always felt, I guess, we had the right to do what we're doing." The City Council denied the appeal during a special call meeting on grounds that the building's design, slated for 201 N. Second St., fits the city's design guidelines. The developer's property rights, it said, also have to be considered since they're meeting city requirements/Tom Hasslinger, Coeur d'Alene Press. More here. (Shawn Gust CdA Press photo: Harold Damiano, a 24-year resident of the Coeur d'Alene North condos, presents information to the city council)
Question: Do you agree/disagree with this decision?
---
---