Tue., Jan. 15, 2013, 8:21 a.m.
Clark: 'Les Miz' Made Me Miserable
Not feeling lousy enough about how rancid and rotten the world can be, I decided to get really depressed by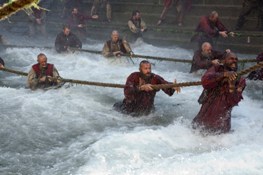 seeing a musical Sunday night. It wasn't the song-in-my-heart mood I was aiming for, of course. See, I'm a longtime lover of musical theater and unashamed to admit it. Back in high school I played trumpet in the orchestra pit for shows like "Oliver" and "The Music Man." And no trip to New York City is complete without attending one or two musicals like "Wicked" or "The Book of Mormon" or "American Idiot" or … But none of these experiences prepared me for the new movie version of "Les Miserables," featuring Anne Hathaway and, you know, that Wolverine dude. Many of you out there loved it, I'm sure. Far be it from me to harsh your mellow, but I left the theater feeling like I'd spent the last two-plus hours being waterboarded in an Iraqi dungeon/Doug Clark, SR. More here. (AP/Universal Pictures: Hugh Jackman as Jean Valjean in opening scene from "Les Miserables")
Question: Did you love/hate Hugh Jackman/Anne Hathaway movie version of "Les Miserables"?
---
---