Tue., Jan. 15, 2013, 8:55 a.m.
Gonzaga Moves Up To No. 8
Gonzaga University moved up one spot to eighth in the Associated Press Top 25 and remained eighth in the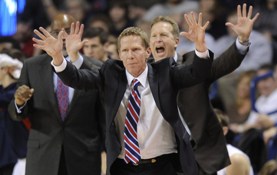 USA Today balloting of coaches in the latest polls released Monday. The Bulldogs received their highest AP ranking since Dec. 22, 2008, when they were seventh. Gonzaga had just one game last week, downing West Coast Conference rival Saint Mary's 83-78 at home. The Zags, off to their best start in school history at 16-1, are 3-0 in the WCC heading into a Thursday game at Portland. Gonzaga will play its final non-conference game of the season Saturday at legendary Hinkle Fieldhouse on the Butler University campus when the Zags face 13th-ranked Butler/Spokesman-Review. More here. (Colin Mulvany SR photo: Gonzaga head coach Mark Few offers instructions during game with Saint Mary's)
Question: Do you think Gonzaga is good enouigh to be ranked No. 8 in the country?
---
---