Tue., Jan. 15, 2013, 4:25 p.m.
Simple Mind: Changing TV Tastes
In the old days ... well, maybe I should say a year or two ago. I use to watch CSI, New York.. Miami and LA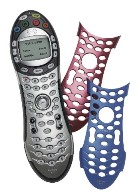 Law.. Boston Legal, were some of our favorites.Then the news programs … meaning 20/20 or 60 Minutes and Dateline, and if the subject matter is good, I still do watch them … I loved PBS Waiting for God and Travels with Rick Steeves.. but PBS has been moving them around so much, it is hard to remember it is 5:30 pm on Saturday. Also love Antique Road Show.. and they have moved that several times. In our household the one who has the remote is the King.. and he loves…Duck Dynasty, Swamp something or other, Axe men, Gold something or other.. and two I do like.. Pawn Shop and Pickers/Cis, From A Simple Mind. More here.
Question: Who handles the remote in your family?
---
---