Tue., Jan. 15, 2013, 8:35 a.m.
Vandals Cause $50K Church Damage
Pastor Nick Hawkins showed up to church Sunday morning to anything but a peaceful sanctuary. Doors were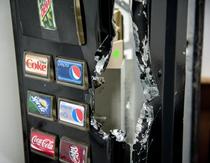 kicked in. Glass was scattered everywhere. Fire extinguishers had been sprayed all over the walls and floor. Music equipment was drenched in soda. "It's obviously pretty shocking," the senior associate pastor of the 300-member Lake City Assembly of God in Medical Lake said Monday. "When you pastor a church, it's like your second family." Sometime between 9 p.m. Saturday and 5 a.m. Sunday, vandals forced their way into the church and effectively destroyed everything they could, he said. More than 12 classrooms were broken into. Damage is estimated at more than $50,000/Jennifer Pignolet, SR. More here. (Dan Pelle SR photo: The pop machine at the church was damaged and money was taken from it during the rampage)
Question: Few crimes bug me as much as senseless vandalism. How about you?
---
---