Wed., Jan. 16, 2013, 5:21 p.m.
Valley Rooster Tries To Cross I-90
Why this particular chicken decided he needed to cross I-90 near Argonne this morning is a mystery, however.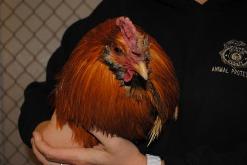 It took a SCRAPS animal control officer, four WSP troopers and a DOT employee about 45 minutes to capture the wayward bird during this morning's commute. He seemed intent on evading capture. Maybe he was on his way to visit a girlfriend? Whatever the rooster's intent, he's now locked up at the SCRAPS shelter waiting for his owner to claim him/Nicole Hensley, Spokane Valley Blog. More here.
Question: You be the sleuth here. Why did this rooster try to cross I-90 during the morning commute?
---
---