Wed., Jan. 16, 2013, 10:16 a.m.
Why Idahoans Love Their Guns
"In Idaho we make no apologies for our love of guns, which are a big part of our everyday lives. We collect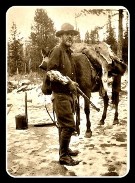 guns, hunt our abundant wildlife with them and get together in shooting clubs to target practice. To most Idahoans, a gun is the greatest gift to give and the greatest to receive. And for fathers (or mothers) to hand down their favorite deer rifle or goose gun to their sons or daughters is a gift that is cherished above all others. I'm proud to call myself a fourth generation Idaho gun owner and have shared that love with my son and daughters. I am filled with pride as I watch my son pass on that love to his two boys"/Clete Edmunson, Blue Review. More here. (Edmunson family photo: Author's grandfather holding his father deer hunting rifle)
Question: Why do you love your gun(s)?
---
---