Thu., Jan. 17, 2013, 8:29 a.m.
Clark: Ryan's Lincoln Is Red Hot
Attention Spokane car lovers. The Hot Rod Lincoln, star of the world's best car song, goes on the block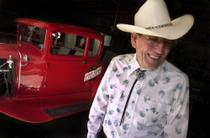 Saturday afternoon at the big Barrett-Jackson car auction in Scottsdale, Ariz. (The event will be televised on the Speed Channel, so check your listings.) Just thinking out loud here, but … Wouldn't it be great if one of our own fat cats won the bid? That way this fine candy-apple red, 1930 Ford could come back home where it belongs. The Hot Rod Lincoln, after all, is as much a part of Spokane as Bing Crosby or the Clocktower. Sure enough, country singer Charlie Ryan built the hot rod right here in the mid-1950s. About that same time he went into a downtown studio to record this catchy little ditty he'd been writing. "My pappy said, 'Son, you're gonna drive me to drinkin' if you don't quit drivin' that Hot Rod Lincoln'"/Doug Clark, SR. More here.
Question: Describe the hottest car that you ever owned?
---
---