Thu., Jan. 17, 2013, 12:01 p.m.
JBelle: Won't Be Without Flu Shot
JBelle (Medical workers should get shots): I've gone both ways and after that one year where I had the flu 9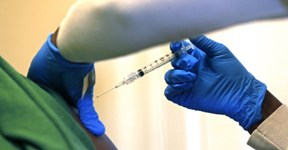 months in a row, I will never be without a flu shot. And if you use airplanes in the course of your job, you pray pray pray that people will wear a mask if they feel coldy or fluish. And when you fly internationally, if you have commitments and obligations when you land, you are out of your mind if you don't mask and glove up when you get on the plane. And even then , I've had to pound the Cipro 10 minutes after I've slipped into my chair at the meeting because I can just feel it coming on and there was that guy coughing and hacking at the gate in Newark and the woman sitting behind me blew her nose all the way across the Atlantic… (AP file photo)
Question: Do you travel internationally much?
---
---