Thu., Jan. 17, 2013, 8:19 a.m.
LCDC Pledges $3.4M More For McEuen
Originally posted at 11:19 p.m. Wednesday.
Special to Huckleberries from LCDC spokesman Keith Erickson: The Lake City Development Corporation's board of directors voted unanimously Wednesday night to allocate another $3.4 million to the McEuen Park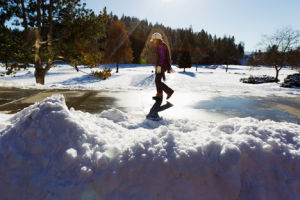 upgrade, bringing its total commitment to more than $15.6 million. The city had requested $4.2 million in additional funds to cover amenities that were recently put back into the project. But Rod Colwell, chairman of the LCDC's finance committee, said the agency does not want to commit to an amount that would effectively exhaust the agency's funding in its Lake District. Mayor Sandi Bloem and City Administrator Wendy Gabriel were both present to address the LCDC board. "You've participated in some real first-class projects over the years," the mayor told board members. "We need to build a park that's the best that it can be." Although the board cut $800,000 from the city's funding request, it left open the option to consider additional dollars after bids for the next phase of the project come in next month. "I would like the LCDC to leave an opportunity to take another look," said board chairman Denny Davis. "I don't want to shut the door on additional funding." (Shawn Gust Coeur d'Alene Press photo: Sandi Gilbertson, of Coeur d'Alene, walks past McEuen Park Wednesday)
Question: Do you look forward to seeing the finished product?
---
---