Thu., Jan. 17, 2013, 4:34 p.m.
Michelle Obama Celebrates B-Day 49
First Lady Michelle Obama rings in her 49th birthday today with a positive public image, a new CBS News/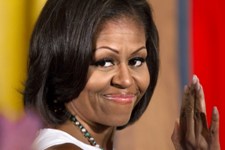 New York Times poll shows. Fifty-one percent of Americans hold a favorable opinion of the first lady, according to the poll, conducted January 11-15. Just 13 percent view her unfavorably while a third of Americans are undecided or haven't heard enough about the first lady. Obama is especially popular with Democrats, while Republicans are more divided in their opinions: 24 percent view her favorably, but 30 percent have an unfavorable opinion of her. The first lady is viewed positively by both men and women, but is more popular with women: 57 percent of women view her favorably compared to 44 percent of men/CBS News Polls, Political Eye. More here. (AP file photo)
Question: Do you have a favorable/unfavorable view of First Lady Michelle Obama?
---
---