Thu., Jan. 17, 2013, 11:22 a.m.
Not Turning Over A New Leaf
Former C.M. Russell High football star and NFL quarterback Ryan Leaf has been moved from a Lewistown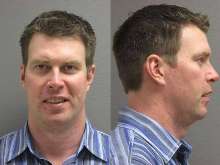 treatment center to the Montana State Prison in Deer Lodge, state officials confirmed Thursday. Leaf, who was sentenced by District Judge Kenneth Neill to a five-year commitment to the Montana Department of Corrections for drug and burglary charges in June, had been in a lockdown drug rehabilitation facility in Lewistown since July 12. The first nine months of that sentence were to be spent in Lewistown and then he was to transfer to six months in prerelease center before likely being given supervised community placement for the rest of the five years, according to Tribune archives/Great Falls Tribune. More here.
Question: How did this guy almost lead Washington State to a Rose Bowl upset back in the day?
---
---