Thu., Jan. 17, 2013, 10:39 a.m.
Nuxoll: Soldiers 'Wrongfully Accused'
After Col. David Brasuell presented the budget request to JFAC this morning for the Idaho Division of Veterans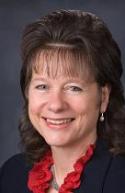 Services, Sen. Sheryl Nuxoll, R-Cottonwood, (pictured) asked about the division's excess funds, for which Brasuell had outlined an evaluation process the department is working through to determine the best way to spend those for the benefit of veterans. "In the union, a lot of soldiers are coming home and some of them are being accused in the line of duty and facing trials, in which, at least it looks to me, like they're being judged wrong," Nuxoll said. She asked if that could be an issue for any Idaho soldiers, and wondered "if that's an option to save funds for legal defenses"/Betsy Russell, Eye on Boise. More here.
Question: Do you think American soldiers have wrongfully been accused of criminal offenses that occurred in the line of duty?
---
---