Thu., Jan. 17, 2013, 9:03 a.m.
Some Locals Up In Arms Re: Gun Plan
Some local residents are up in arms over the federal government's proposal to curb gun violence. The sweeping package that President Barack Obama announced on Wednesday includes a ban on military-style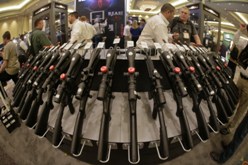 assault weapons and ammunition magazines holding more than 10 bullets, a call for universal background checks and a boost for mental health services, teacher training and anti-bullying efforts. Coeur d'Alene's Joey Hovaldt, who practiced shooting at Center Target Sports in Post Falls on Wednesday, said it's good that laws are being reviewed in the name of safety. But he also believes that, unfortunately, an assault gun ban won't go far in curbing violence. "If somebody is going to do something, they're going to do it," Hovaldt said. "It's a trigger in their mind"/Brian Walker, Coeur d'Alene Press. More here. (AP photo: Nightforce rifle scope representatives at the 35th annual SHOT Show, Wednesday in Las Vegas)
Question: Do you subscribe to the saying, "If you outlaw guns, only outlaws will have guns"?
---
---