Thu., Jan. 17, 2013, 10:44 a.m.
'Wave Of Kindness' Sweeps Capitol
Twin Falls Times-News reporter Melissa Davlin reports that a "quiet wave of kindness" is sweeping through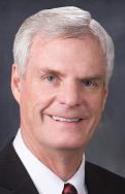 Idaho's Capitol. The reason: Senate President Pro Tem Brent Hill (pictured), R-Rexburg, is asking friends and colleagues to do 37 small acts of kindness in memory of his son, Ritchie Hill. Ritchie, who had just turned 28 when he died in 2004, would have turned 37 on Jan. 27 this year. Hill told the Times-News that his family has commemorated his birthday each year, often with acts of service. "Ritchie was known for helping others and loved reaching out to those in need," Hill wrote in a Facebook post. "It would be a great way to celebrate a life worth celebrating"/Betsy Russell, Eye on Boise. More here.
Question: Describe the last unexpected kind thing that someone has done for you?
---
---