Fri., Jan. 18, 2013, 1:31 p.m.
JohnA: Stylin' At A Gun Rally
JohnA (re: 2nd amendment rally set Saturday): "I can just see the crowd now. A sea of red-checked flannel and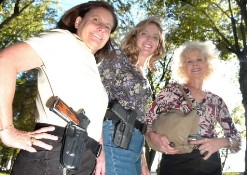 camo, testosterone-heavy and snoose a-spittin', sporting two day old beards and an array of guns to rival any penis-envy competition. And, that's just the women. Then, they want them packing signs? What, 'Guns R Us'? Or, "You Can Have My Gun When You Can Pry It From My Cold, Dead Hands"? Now, there's a challenge. Or, the burned-out hippy with the old weathered sign "Hell No, We Won't Go"? I can't wait to see the national coverage of this hick-stick convention. Or, wait, maybe I'll pack the AK-47 with the twin 30-clip mags and join 'em. Should be a hoot." (AP file photo for illustrative purposes)
Question: What would you wear to a gun rally?
---
---