Fri., Jan. 18, 2013, 3:48 p.m.
Review: Phony "Gangster Squad"
Dan Webster/Dually Noted turns thumbs down on "Gangster Squad":
If you've read Paul Lieberman's nonfiction book "Gangster Squad: Covert Cops, the Mob, and the Battle for Los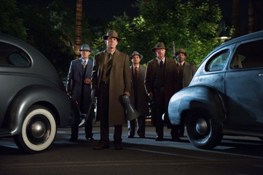 Angeles," or the series of L.A. Times stories that inspired it, you know all about the corruption that lurked at the heart of pre- and post-World War II L.A. Seriously, though, you could have learned all you needed simply by watching a pair of movies: Roman Polanski's 1974 film "Chinatown" and Curtis Hanson's 1997 film "L.A. Confidential." Both are superb examples of hard-edged crime fiction, the former a vintage Private-Eye mystery, the latter a period-piece police procedural. And both are based on real Los Angeles history, respectively, the great Owens Valley water grab and the battle to clean out rogue elements of the LAPD. One thing you DON'T have to do is see Ruben Fleischer's adaptation of Lieberman's book. Fleischer, who directed 2009's "Zombieland," has given us a film that – even though it covers a fascinating period of American history – is about a phony as a spray-on suntan. More here. (AP/Warner Brother file photo)
Question: Do you plan to see "Gangster Squad"?
---
---