Fri., Jan. 18, 2013, 5:09 p.m.
Sheriff Defends 2nd Amendment
Bonner County Sheriff Daryl Wheeler (pictured in Bonner County Web site photo) is letting the public know where he stands as the debate over gun control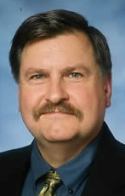 rages in Washington, D.C. "I've been a strong advocate of the Second Amendment and I'm always going to stand up to make sure that those rights are protected," Wheeler said on Thursday. As officials around the nation react to President Barack Obama's $500 million effort to control gun violence in the wake of last month's Sandy Hook massacre, Wheeler said his office has fielded a number of requests from the public asking what his position is on the issue. In response, Wheeler posted a message to his department's website which urges the public to reach out to local, state and federal officials to push back against 23 executive actions proposed by the Obama administration to enhance gun control regulations/Keith Kinnaird, Bonner County Bee. More here.
Question: Should local sheriffs be outspoken in questioning the constitutionality of President Obama's proposals to rein in gun violence?
---
---