Fri., Jan. 18, 2013, 1:39 p.m.
SPLC: Felon Linked To NI 'Walled City'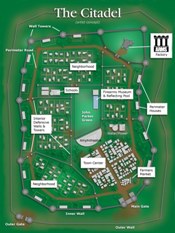 If you're a band of antigovernment "Patriots" pitching a plan to build a walled city in North Idaho and manufacture handguns and assault rifles there, you might expect raised eyebrows, a little criticism. But potshots from other Patriots? Potshots, indeed, are flying at III Arms Co. and its sister land development company, Citadel Land Development, the firms behind a proposed 2,000- to 3,000-acre III Citadel complex for as many as 7,000 "Patriot" families near St. Maries, in Idaho's sparsely populated Benewah County. The criticism is sparked by the fact that one of the key players linked to the unlikely-sounding venture is three-time convicted felon Christian Allen Kerodin, a Maryland contractor who has apparently used various aliases and whose birth name was Christian Hyman/Hate Watch, Southern Poverty Law Center. More here. (The Citadel's map of planned walled city)
Thoughts?
---
---