Tue., Jan. 22, 2013, 8:41 a.m.
1000 Attend Lake City Gun Show
A crowd of more than 1,000, many of them armed with rifles and pistols, rallied in support of gun-owner rights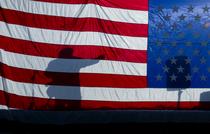 Saturday outside a Coeur d'Alene sporting goods store. It was a strong show of support for the Second Amendment on a cold and sunny day, and it came in response to sweeping new gun control proposals by the Obama administration following the Newtown, Conn., elementary school massacre last month. Similar "Gun Appreciation Day" and "Guns Across America" gatherings were held in state capitals and at gun shows and shooting ranges across the nation. About 800 supporters of gun rights converged on the statehouse in Boise, and another big crowd showed up outside the Washington Capitol in Olympia/Scott Maben, SR. More here. (SR photo: Tyler Tjomsland)
Thoughts?
---
---