Tue., Jan. 22, 2013, 11:59 a.m.
Legislator Seeks To Protect Cursive
Idaho's public school students shouldn't lose the ability to read cursive, warns Rep. Linden Bateman, R- Idaho Falls, a retired history teacher. "What will that do to historical research?" he asked. "Family research?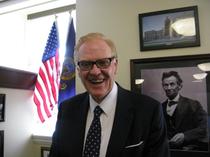 Geneology? Our Constitution, our Declaration of Independence – kids will not be able to read those documents in the original. It disconnects kids from their past – weakens the connection." Bateman this morning introduced a concurrent resolution calling on the State Board of Education to include cursive handwriting in the new "Common Core" standards for what children should learn in school. Several other states, including California, Massachusetts and Georgia, already have made that move, Bateman said. It comes as kids have less and less cause for cursive writing, often using computers or other devices instead/Betsy Russell, Eye on Boise. More here. (SR photo: Betsy Russell)
Question: Believe it or not, I have very good handwriting. How about you?
---
---