Tue., Jan. 22, 2013, 8:32 a.m.
Obama Gives 2nd Inaugural Address
He did not utter the words, but President Obama suffused his second Inaugural Address with the spirit of a favorite phrase: the Rev. Dr. Martin Luther King Jr.'s call to heed "the fierce urgency of now." President Obama's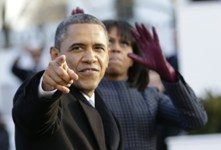 address nodded to ideological inclusiveness but did not repeat his view from four years ago that it was time to end the "recriminations and worn-out dogmas" that characterized Washington battles. This was a president unbound from much of what defined him upon taking office four years ago, a man clearly cognizant of time already running down on his opportunity to make his imprint on the country and on history. Gone were the vision of a new kind of high-minded politics, the constraint of a future re-election campaign and the weight of unrealistic expectations. In their place was an unapologetic argument that modern liberalism was perfectly consistent with the spirit of the founders and a notice that, with no immediate crisis facing the nation, Mr. Obama intended to use the full powers of his office for progressive values/Richard W. Stevenson, New York Times. More here. (AP photo)
Question: Are you excited/apprehensive re; President Barack Obama's second term?
---
---