Tue., Jan. 22, 2013, 8:58 a.m.
Scholarship Recalls CdA Triathlete
It was just a few minutes. David Martin and Sean Murphy chatted, then helped each other zip up their wetsuits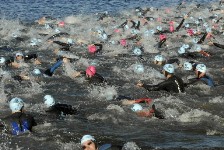 before the start of last year's Ironman Coeur d'Alene on June 24. Both men decided they would not be part of the mass start of 2,000 or so athletes, and instead wait a minute before heading out for the 2.4-mile swim. They wished each other well, and shortly after the cannon fired, walked into Lake Coeur d'Alene and began swimming. "We started out on our own," Martin said. A short time later, the 44-year-old Murphy was pulled from the water. The Seattle man was rushed to an ambulance, and taken to Kootenai Medical Center. There, he remained on life support until he died two days later. ... Martin, 73, said he will never forget those final few minutes with Murphy/Bill Buley, Coeur d'Alene Press. More here. (SR file photo)
Question: Am I the only one who thinks this is a terrific way to remember a casual acquaintance?
---
---