Wed., Jan. 23, 2013, 1:22 p.m.
Lake Metal Detection Concerns Tribe
RE: Hayden man still finds objects linked to Fort Sherman/Bill Buley, Coeur d'Alene Press
The cultural resources staff of the Coeur d'Alene Tribe has called my attention to the story that ran in your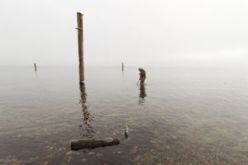 newspapers yesterday and today concerning Dennis Rachunok's prospecting for historic and prehistoric artifacts along the north shore of Lake Coeur d'Alene, near historic Fort Sherman. The Tribe was especially concerned at the reference to arrowhead collecting, as the area in question has been used by them for millennia. ... Unfortunately, Idaho is one of the last states in the country without laws protecting its historic heritage. Under these circumstances, an educated and informed citizenry is the best protection available for our fragile past. Mr. Rachunok's activities are not illegal, but they are damaging and diminishing our collective sense of ourselves as a people, where we've been, and where we might be going. However, steps can be taken/Ken Reid, Idaho State Historic Preservation Office. Full letter here. (Coeur d'Alene Press photo: Shawn Gust)
Question: Do you understand the concerns expressed by Ken Reid for the Coeur d'Alene Indian Tribe.
---
---