Wed., Jan. 23, 2013, 10:33 a.m.
Satay Bistro Offers Eclectic Excellence
I remember when the building first went up, a few years ago. With its elaborate brick exterior and rounded front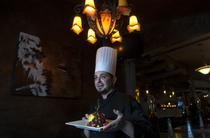 wall, it stood out on a patch of asphalt between a Taco Time and a music store on Fourth Street in Coeur d'Alene, just north of the freeway. When a sign went up announcing an Italian deli was coming soon, I waited in anticipation. And waited. Soon, the Italian deli sign went down, and the real estate signs went up. And the brand new building sat empty. Then last year, Rob Elder opened Satay Bistro in the unused space, bringing an eclectic collection of "American fusion" dishes to the Coeur d'Alene food scene. It's a most welcome addition/Carolyn Lamberson, SR. More here. (Kathy Plonka SR photo: Executive chef Anthony Buttice displays a dish of filet mignon at Satay Bistro)
Question: Any personal reviews out there re: Satay Bistro?
---
---