Thu., Jan. 24, 2013, 8:40 a.m.
Higher Sewage Fees For Rathdrum, PF
Post Falls and Rathdrum wastewater rates are proposed to increase 60 percent over the next five years to help fund $30 million in treatment plant upgrades needed to meet future discharge permit requirements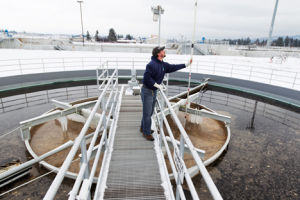 aimed at cleaning up the Spokane River. The Post Falls City Council will hold a public hearing on the wastewater funding and improvement plan on a date to be determined, most likely Feb. 19. Mike Neher, Post Falls' environmental manager, said the city is being mandated by the U.S. Environmental Protection Agency to make the facility upgrades to improve the river's conditions over the next several years. "We expect that EPA will allow time to build the necessary treatment facilities to reach the lower limits (of phosphorous and metals) by 2021," Neher said/Brian Walker, Coeur d'Alene Press. More here. (Shawn Gust CdA Press photo: Ryan Benson, water reclamation technician for the City of Post Falls waste water treatment plant, checks the depth of the sludge blanket)
Question: Would you be willing to pay more in wastewater rates to clean up the Spokane River?
---
---