Thu., Jan. 24, 2013, 5:09 p.m.
New Sheriff Opposes Most Gun Regs
Kootenai County Sheriff Ben Wolfinger released a statement this week declaring his opposition to some but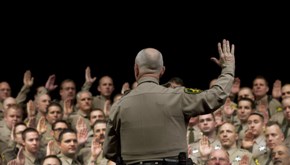 not all of the Obama administration's proposed gun regulations. "Personally, I oppose many of them and will watch and see if the courts rule on the constitutionality of them," Wolfinger stated. "However, some of the proposals I don't disagree with." Wolfinger said he supports expanding background checks to apply to all firearms sales, as currently proposed at the federal level. That includes gun shows and private sales, he said on Thursday, where background checks don't currently occur. "That way, the right people will still get them," Wolfinger said of procuring guns. Wolfinger favors keeping firearms out of the hands of "the wrong people," he added, like individuals with serious mental illness and convicted felons/Alecia Warren, Coeur d'Alene Press. More here. (Kathy Plonka SR photo: New Sheriff Ben Wolfinger swears in deputies after his swearing-in this month)
Question: Do you think Sheriff Ben Wolfinger has taken a reasoned approach to President Obama's proposed new gun regulations.
---
---