Thu., Jan. 24, 2013, 1:05 p.m.
Police Seekin Missing 25YO Woman
At 2 p.m. Wednesday, Coeur d'Alene Police received a report of a missing 25-year-old female, named Jessica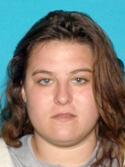 Lee Lane. Jessica's mother said she last saw her daughter at 1:30 p.m. Sunday. At that time, the mother dropped Jessica off near the CitiLink bus stop at Appleway and Government Way. Jessica had told her mother she was just going to ride the bus around for a while because she was bored. Her mother stated Jessica occasionally stays gone overnight but normally calls the family daily. The mother is concerned because Jessica has health issues. Anyone with information on the whereabouts of Jessica Lane is asked to call the Coeur d'Alene Police Department at 208-769-2320.
---
---